Wilhelm van Astrea (ヴィルヘルム・ヴァン・アストレア) is the twentieth episode of the Re:Zero anime.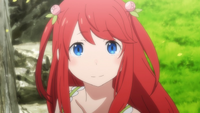 Characters
Edit
Anime Differences
Edit
Wilhelm's flashback scenes with Thearesia are rearranged to be included throughout the battle.
Crusch is holding her sword when using her Hundred Man Sword Strike while in the light novel Subaru notes that she isn't holding anything.
The Hakugei comes down to attack Crusch instead of Wilhelm jumping up using his Earth Dragon to fight it in the air.
The Hakugei tries to eat the falling Wilhelm instead of attempting to hit him with its tail.
The cut tooth is white instead of being yellowish.
Wilhelm uses one sword to cut out the Hakugei's eye in a circular motion rather than four swords and a square.
Parts of the dialog during the fight against the Hakugei was cut.
The group doesn't lessen the density of the mist before dealing with the crazed people.
Satella's voice is cut and the lower half of her face is shown while in the light novel he only hears her voice.