Welcome!
Welcome to the Re:Zero Wiki, a wiki dedicated to the Re:Zero light novels by Nagatsuki Tappei and the manga and anime produced from it. This is a wiki where everyone can help out by adding and editing articles! The wiki currently has had 65,158 edits over 813 Articles with 3,185 Images and has been expanding since March 8, 2014.
Announcements
The second season of Re:Zero has been confirmed with a tentative release date of July 2020. Furthermore a Director's Cut version of Season 1 of Re: Zero was announced that will start airing from January 1, 2020 split up into one hour episodes. The re-edit will cover Season 1 with a potential for new scenes and minor changes.
It's expected that the second season will at least cover most of the fourth Arc of Re: Zero. More details are expected to be released in the coming months.

---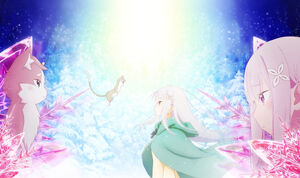 A second OVA called Re:Zero: Bond of Ice was announced, and premiered in Japanese theatres starting November the 8th, 2019! It is slated for an April 1st, 2020 release on Blu-Ray and DVD.
The OVA adapted Re:Zero Prequel: Bond of Ice. The OVA covered the story of Emilia and Puck's first meeting, and their life in Elior Forest, just before Emilia became a royal selection candidate.
Read more: Bond of Ice OVA

---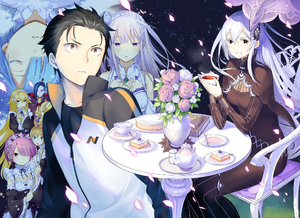 An adaptation of the Fourth Arc of Re:Zero into Manga format was announced at the MF Bunko Summer Festival. The first chapter of the Daiyonshou manga was serialised in Gekkan Comic Alive in its November issue on September 27th, 2019.
The art is drawn by Haruno Atori, and its composition is handled by Yu Aikawa.
You can follow the chapters starting from Chapter 1 to find out more.
Featured Article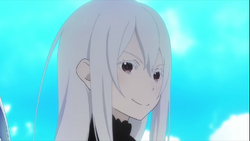 Echidna is the "Witch of Greed", one of the seven great Witches of Sin who perished four hundred years ago, who now live on in incorporeal form. She is one of the central characters in Re: Zero's Arc 4.

Latest Volumes and Chapters
| | |
| --- | --- |
| | Re:Zero |
Poll
Which Arc 5 character would you like to see animated?