Welcome to the Re:Zero wikia, the site about Re:Zero!
Welcome to the Re:Zero Wiki, a wiki dedicated to the Re:Zero light novels by Nagatsuki Tappei and the manga and anime produced from it. This is a wiki where everyone can help out by adding and editing articles! The wiki currently has had 73,206 edits over 854 Articles with 3,589 Images and has been expanding since March 8, 2014.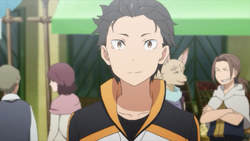 Natsuki Subaru is the main character of Re:Zero. He is a normal boy that was summoned to another world by Emilia to help her. Although they start out rocky they grow to trust each other more.