Welcome!
Welcome to the Re:Zero Wiki, a wiki dedicated to the Re:Zero light novels by Nagatsuki Tappei and the manga and anime produced from it. This is a wiki where everyone can help out by adding and editing articles! The wiki currently has had 105,090 edits over 1,008 Articles with 5,870 Images and has been expanding since March 8, 2014. As this wiki is regularly updated with the latest information from new chapters, volumes, episodes and side content, some pages will contain spoilers. We suggest a certain degree of caution when exploring the wiki.
Announcements
The first cour of the second season of Re:Zero was airing weekly, with the first episode having aired on the 8th of July, 2020 and the last episode having aired on the 20th of September, 2020. The first thirteen episodes covered the last three interludes of the Light Novel Volume 9 and the entirety of volume 10, volume 11 and volume 12 with the final episode adapting the content from the start of volume 13. You can find out more by jumping into our episode pages, starting with Episode 26.
Meanwhile, the second cour started airing in January 2021 with the first episode releasing on January 6th, 2021. The cour covered what's left of volume 13 and the entirety of volumes 14 and volume 15.
With the 2nd season's conclusion on the 24th of March, 2021, the first four story arcs have been fully adapted in 50 episodes.

---
A manga adaption of the second OVA, Re:Zero: Bond of Ice was announced for serialization in MangaUP from April 26, 2020 onwards. The manga is drawn by Tsukahara Minori and adapts the Light Novel version.
You can follow the chapters starting from Chapter 1 to find out more.
---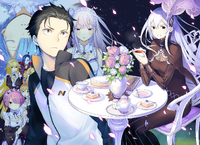 An adaptation of the Fourth Arc of Re:Zero into Manga format was announced at the MF Bunko Summer Festival. The first chapter of the Daiyonshou manga was serialised in Gekkan Comic Alive in its November issue on September 27th, 2019.
The art is drawn by Haruno Atori, and its composition is handled by Yu Aikawa.
You can follow the chapters starting from Chapter 1 to find out more.
Featured Article
After two long months of wait, Tappei Nagatsuki finally started the long-anticipated Arc 7 of the Web Novel. The title of the Arc is The Land of the Wolves. Currently, nineteen chapters have been released with the first eleven being translated by Witch Cult Translations.


You can read the synopsis of the first two chapters here.
Latest Volumes and Chapters
Community content is available under
CC-BY-SA
unless otherwise noted.