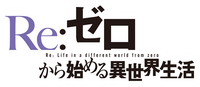 Re:Zero kara Hajimeru Isekai Seikatsu
(Re:ゼロから始める異世界生活, lit. Re: Life in a Different World from Zero), is a Japanese light novel series written by Nagatsuki Tappei and illustrated by Ootsuka Shinichirou. The series has been published by MF Bunjo J since January 2014, and also has a sub series known as
Re:Zero kara Hajimeru Isekai Seikatsu Ex
(Re:ゼロから始める異世界生活 Ex, lit. Re: Life in a Different World from Zero Ex), which covers the past before the series started.
The light novel series has been adapted into an anime series, which is currently being animated by White Fox and has been airing since April 2016. The series has been also adapted into several ongoing manga series; Parts 1 and 3 have been serialized in Gekkan Comic Alive while Part 2 has been serialized in Gekkan Big Gangan.
An anime OVA was announced in 2017 and an English dub was announced in 2018. The first episode dub was aired on May 9, 2018. Episodes 2-12 will be aired on June 19, 2018.
Suddenly, high school student Natsuki Subaru has been summoned to another world on the way back from the convenience store. With the biggest crisis of his life being summoned to another world and no sign of the one who summoned him, things become worse when he is attacked. However, when he is saved by a mysterious silver-haired girl with a fairy cat, Subaru cooperates with the girl to return the favor. When they finally manage to get a clue, Subaru and the girl are attacked and killed by someone. Subaru then awakens in the place he was summoned and notices he gained the ability "Return by Death." Subaru is a helpless boy that only has the ability to rewind time by dying. Despite the despair, can he rewrite history and save that girl from a fated death?
Light NovelEdit
A 25 episode anime adaptation was produced by White Fox and directed by Watanabe Masaharu, and aired in Japan from April 2016. The anime was collected into nine DVD and Blu-ray Disc sets which were released from June 24, 2016 to February 24, 2017.
A second season adaptation has been announced on the 23rd of March 2019. On the 11th of June 2020 (Thursday, 21:00 JST), the official release date was given. The second season is scheduled to release on July 8th (Wednesday, 23:00 JST). The season is confirmed to be split in two cours, with the first cour airing on the aforementioned 8th of July. The second cour is scheduled to air in January 2021 (winter anime season). The season will likely cover The Everlasting Contrat arc in it's entirety. 
A series of Original Video Animations (OVA) were made for Re:Zero which adapts some of the side-stories and companion pieces to the main story.
Suehiro Kenichirou of ONEMUSIC was in charge of the music for the anime. The anime uses Redo and STYX HELIX as its opening theme and ending theme for the first cour and Paradisus-Paradoxum and Stay Alive for the second cour.
Community content is available under
CC-BY-SA
unless otherwise noted.