Jurassic World: Dominion Dominates Fandom Wikis - The Loop
Play Sound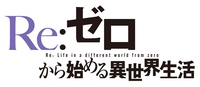 Re:Zero kara Hajimeru Isekai Seikatsu (Re:ゼロから始める異世界生活, lit. Re: Life in a Different World from Zero) is a Japanese light novel series written by Nagatsuki Tappei and illustrated by Shin'ichirō Ōtsuka. The series has been published by MF Bunko J since January 2014, and also has a sub series known as Re:Zero kara Hajimeru Isekai Seikatsu Ex (Re:ゼロから始める異世界生活 Ex, lit. Re: Life in a Different World from Zero Ex), which covers the past before the series started.
The light novel series has been adapted into an anime series, which is produced by White Fox. The first season aired in April 2016, and a second season has been airing since July 2020. An English dub for the first season was announced in 2018. The first dubbed episode aired on May 9, 2018. An English dub for the second season began airing since August 26, 2020.
An anime OVA, titled Memory Snow, was announced in 2017, and premiered in Japanese theaters on October 6, 2018. A second OVA, titled The Frozen Bond, was announced in 2018, and was released on November 8, 2019.
The series has been also adapted into several ongoing manga series. Parts 1 and 3 have been serialized in Gekkan Comic Alive while Part 2 has been serialized in Gekkan Big Gangan.
Plot
Suddenly, high school student Natsuki Subaru has been summoned to another world on the way back from the convenience store. After being summoned to another world and no sign of the one who summoned him, things become worse when he is attacked. However, when he is saved by a mysterious silver-haired girl and her companion, a spirit named Puck, Subaru cooperates with the girl to return the favor by helping to find something that was stolen from her. When they finally manage to get a clue and go to the place it was gonna be sold Subaru and the girl are mysteriously attacked and killed by someone. Subaru then awakens hours before his and the silver haired girls death. After dying a couple more times with the same result he dubs his ability "Return by Death."
Subaru is a helpless boy that only has the ability to rewind time by dying. Despite the despair, can he rewrite history and save that girl from a fated death?
Media
Light Novel
Manga
Anime
Season 1
A 25 episode anime adaptation was produced by White Fox and directed by Watanabe Masaharu, and aired in Japan from April 2016. The anime was collected into nine DVD and Blu-ray Disc sets which were released from June 24, 2016 to February 24, 2017.
Season 2
A second season adaptation has been announced on the 23rd of March 2019. On the 11th of June 2020 (Thursday, 21:00 JST), the official release date was given. The season premiered on July 8th (Wednesday, 23:00 JST). The season is a split two cour adaptation, with the first cour airing on the aforementioned 8th of July. The second cour started airing on January 6th, 2021 (Wednesday, 22:30 JST). The 2nd season concluded with its 50th episode–releasing on March 24th, 2021–and covered The Everlasting Contract Arc in its entirety.
OVA
A series of Original Video Animations (OVA) were made for Re:Zero which adapts some of the side-stories and companion pieces to the main story.
Music
Suehiro Kenichirou of ONEMUSIC was in charge of the music for the anime. The anime uses Redo and STYX HELIX as its opening theme and ending theme for the first cour and Paradisus-Paradoxum and Stay Alive for the second cour.